How to Make a Cute Little Doll Quilt from the Hourglass Block Pattern
Last post, I laid out goals and a plan for getting more projects to the completion stage.  Now is when I should probably report back on those but, ahem, I'm not ready.  Okay, I'll be honest because both the goals and the plan accomplished what I hoped they would which was sticking to the same projects long enough to make progress on all three.
Pink Sprinkles: I finished all the squares. That is if you call finishing 105 of 120 all the squares. I am, because the remaining 15 are in varying states of assembly on my sewing table.
Blue Baskets: I cut and prepped 20 basket blocks for a trip I took in mid-July. This is a big deal because it's a time consuming process and prepped blocks are much closer to finished blocks. I finished 12 basket blocks and have the handles appliquéd on a few more so I'm calling this one a winner. The concept for this project also came together a bit more and I've decided to add some red blocks into the mix. Four of those are prepped. Time to get back to appliquéing handles.
TQC Summer Sew-along: Haven't given up! So, also counting that as a win. What I'm not counting is how many strips I've cut so far. It's not my goal of 30 but it's more than I had last post. So…progress.
Okay, on to the real purpose of this post which is my report on the Start a New Project goal. I stuck to the three in-progress projects as long as I could but finally had to break out something new. The block I chose to work with has a little backstory for me.
My husband likes to watch golf on TV. I like his company and use the time to peacefully hand stitch. So, I partake in a little golf watching, too. One tournament is sponsored by a company called HSBC. The interesting aspect to this little fact is their corporate logo is the Hourglass quilt block. I was compelled to share that insight with my husband.

Me: HSBC's logo is a quilt block.
H: [silence]
Me: It's an hourglass block.
H: Mmmm Hmmm.
Me: I wonder if they saw the block in a quilt first or think they made it up themselves.
H: Hmmm.
Me: [Leaves room]
H: Where are you going?
Me: To sew.
Fascinating life we lead, I know. But, my little hourglass quilt was born. Actually, two were born. I originally planned to use a Turkey red print but there was a poison green repro fabric winking at me when I picked out the red. So, I decided to make one of each and then decided to swap out the center blocks, just for fun.
I find my little quilt journal very helpful because of my tendency to stop and start projects, often letting months or years pass before picking them back up again. If I'm making it up as I go along, I include measurements, what I intend to do with the blocks, the fabrics I'm using and where they were last seen and even the information from the selvedge in case I want to try to order more in the future.
But, I digress. On to the hourglass tutorial…
In case you cannot read the cutting instructions in the image above, to make one quilt you will need approximately one fat quarter of background fabric and one fat eighth of print fabric. From your background fabric, cut:
4 squares 2-1/2″
2 squares 4-1/4″ then cut these twice diagonally making four quarter-square triangles (8 total) – these will be used for the side triangles
2 squares 3″ then cut these once diagonally making two half square triangles (4 total) – these will be used for the corner triangles on your quilt top
For the borders, cut 2 strips 2″ by width of quilt top, add them to the top then cut another 2 strips 2″ by the height of quilt top (after top and bottom borders were added)
The hourglass block is all about the half-square triangle. I used Thangles because I like that method. You can read more about how to use them in my previous post here. If you use Thangles, cut 4 strips 1-3/4″ x approximately 10 inches out of the print fabric and background fabric. This makes 40 hst and you need 36. If you aren't using Thangles, make 36 hst using your favorite method. They need to be 1-1/2″ unfinished. Use four hst per little hourglass block as illustrated in image above.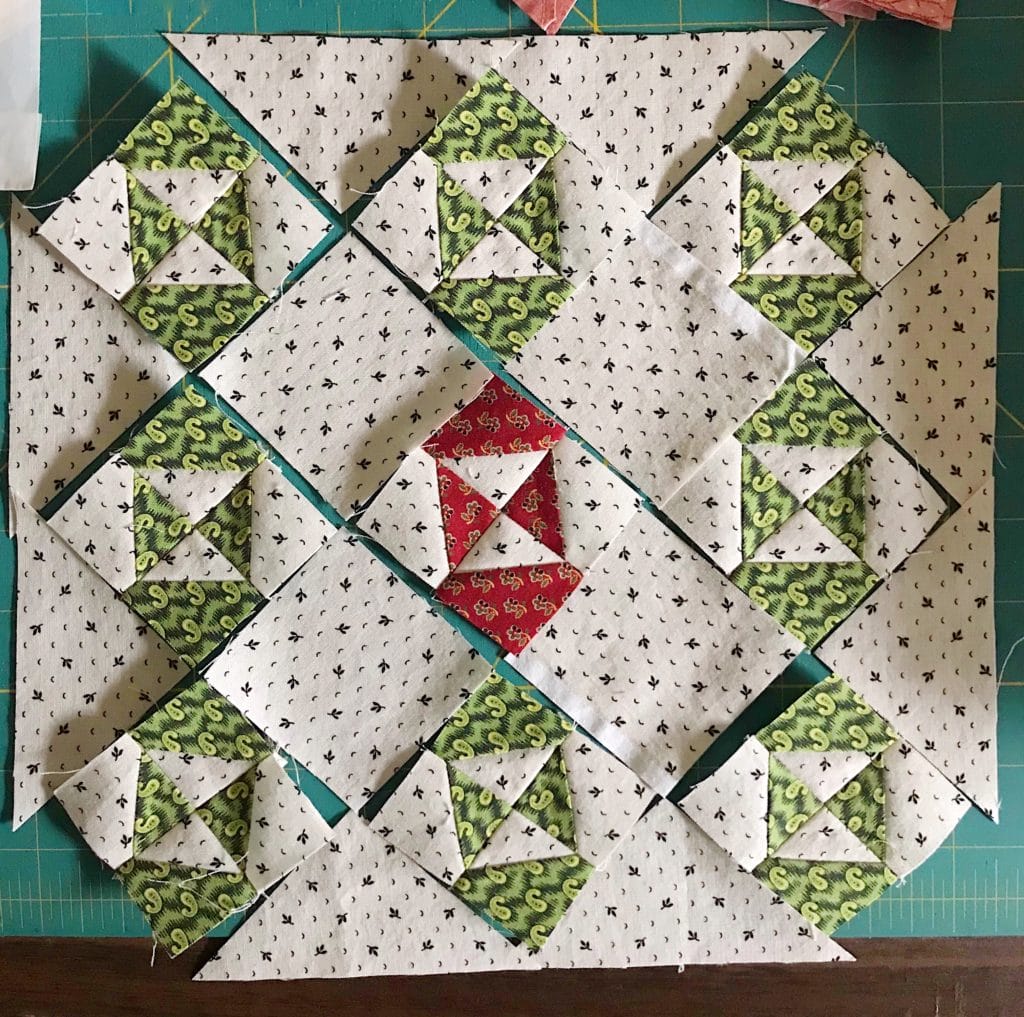 Make nine hourglass blocks and lay them out with your alternate squares and side triangles as illustrated above. Sew all your pieces together, then add the corner triangles, then top and bottom border, then side borders. Voila! You have a little quilt top that should measure approximately 12″ square (ish, if you piece like me and cannot ever get things exactly square).