Making little quilts to cozy up life and play with color and fabric…
Hi there! I'm Taryn, the writer, photographer, pattern designer and recipe developer for Repro Quilt Lover. Indulge your passion for quilting, fabric and color and learn to make adorable little quilts (as well as some bigger quilts) to decorate your home, use as gifts for special friends and generally make your life more colorful and cozy.
Keep reading if you want to learn more about the Repro Quilt Lover blog and how baking became part of the experience. Seeing colors inspires me to make quilts and bake yummy treats. At first, those seemed like to separate things but then I started bringing baked goods to guild meetings that "matched" my latest quilt creation and that's when I realized, quilters have to eat, too. Right?
My love for quilting…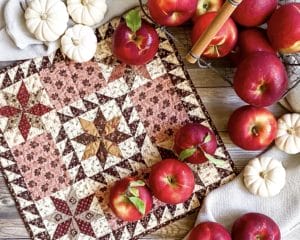 …started when I saw a beautiful red and green pieced and appliqued antique quilt drying on the floor of my sister's circa 1830 Connecticut home. I was drawn to the colors, shapes and the delicious patterns created by the quilting stitches bringing it all together. Since then, I've been inspired by traditional quilt patterns and reproductions of the glorious fabrics and colors from the nineteenth century.
The problem with making quilts is that they are big and can fill up a space quickly. They take a lot of time to make so using them for gifts is a big commitment. My dilemma was how to find the time to make all the quilts I was designing in my head, how to show them off in my home and how to find enough storage space for the ones not currently in use. Enter the little quilt! Making little quilts is an excellent way to experiment with a block design, try different color combinations, and make something you can use in your decorating to cozy up your home. They are easy to store and you can quickly make changes to your displays to match seasons or indulge a new favorite color scheme.
Repro Quilt Lover is my way to interact with "my people" who share the love for color and quilts. They want to pick up some fabric and stitch a beautiful little quilt to use and love.
…and baking!
In 2019, I started to combine my love of quilts and baking in one blog and found many of my readers share the cozy connection between food and quilting. That's when I started the annual "Cookies and Quilts" series and I've since added my bi-weekly newsletter, Deliciously Quilted, which contains both quilting ideas, tips and favorite recipes. After all, quilters eat, too! Delicously Quilted is available by free subscription here.
Contact