Let's make a little quilt! Click for your free seasonal pattern!
I'm Taryn!
Creator & Maker of all the fun projects!
Why little quilts? I love traditional quilts and how different they can look depending on what colors and prints we use or how we combine the blocks. The combinations are infinite, but the space for storing those big quilts is limited. So, I started making little quilts. They are quicker to finish and if we keep our projects small we can show them off in cozy little pops of color and pattern all over the house and easily change our displays based on the seasons, holidays or just where our imagination takes us.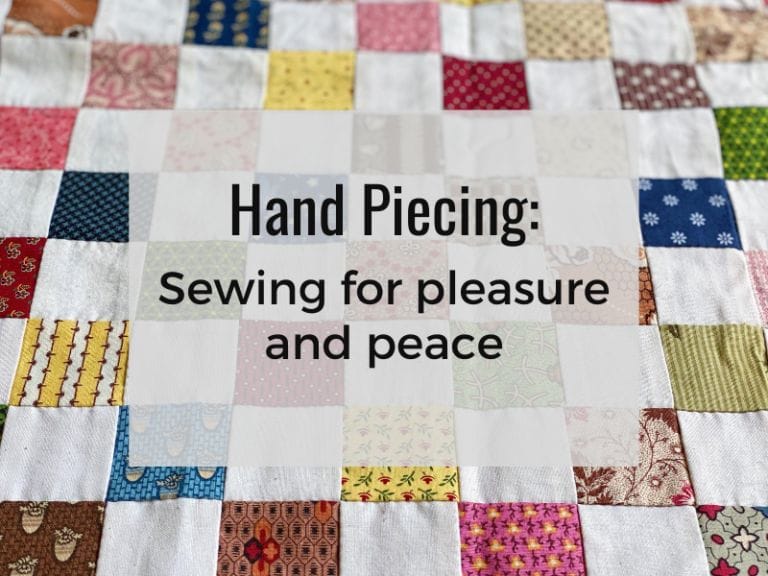 This is a post about taking on a large-ish quilt as a hand piecing project and how to break it down into blocks to keep it portable. It's also a post about using stitching as a self-care technique. Or, more specifically, why stitching makes us feel better IF we don't make it into one more…
Today I'm sharing one of my favorite hand stitching accessories, my travel hand stitching kit dedicated to a particular project. Sure, you can keep everything in a baggie or store all your hand stitching supplies in one big box, but this is designed to be ready to pick up and go and be pretty cute…
Cookies and Quilts
There is something about color that makes me think of quilts and food, especially cookies. When I found myself making cookies to match my latest quilt project, I thought, why not? Quilters have to eat and they love to provide treats for when they get together so explore these posts to find something yummy you can make!
Free Little Quilt Patterns
Check out these links below to find a cute little weekend project that's free to you! Periodically, we host a quiltalong weekend coupled with a tasty snack or yummy smoothie and spend some time sewing and checking with each other on Instagram.