This year is my ten year anniversary with Temecula Quilt Company. No, I am not really affiliated with them, I'm just a devoted customer. I first discovered TQC in 2009 when it was featured as one of the top ten quilt shops in Quilt Sampler magazine. It was one of those shops I noted as "must visit if at all humanly possible" and to my delight I was visiting southern California just two months after the magazine was published. That year, 2009, was also my first year of blogging about my obsession love of reproduction quilts so I described that first visit in this old post. Here I am at TQC earlier this month with some special quilt friends I've made over the last ten years. It's time to share more of this wonderful little shop than I did in that first post.
Visitors quickly know they are someplace special when they are greeted with the sight of this bed covered in quilts made from TQC patterns, some free on their blog! My personal current favorite – and bucket list quilt – is the red, green and shirting one just in front of the pillows. It's what I like to call a "drop everything" quilt which means when I saw the picture I drop whatever I am currently working on and start a(nother) new project. That one is free on the blog and I am helpfully providing the link to the instructions for "Secret Santa Sew Along" HERE! I'm also planning on doing the red triangles one and the house pillow. Pretty ambitious for someone who struggles to find time for sewing but I love a challenge (and hoarding pretty fabric).
Above is another of many, many quilty vignettes around the shop. I think Sheryl Johnson, TQC's owner, has as good an eye for vintage treasures as she does for fabric and quilt design. Don't you love the little wooden easel as prop for the quilt, kit and pattern? Those are the touches that make us quilt lovers squeal in delight. The book behind the kit, Quirky Little Quilts, is Sheryl's first book, published last summer. A couple of years ago, I shared a small basket quilt I own with Sheryl so she could pattern it. Now, it's in the book! I'm pretty selective about which quilt pattern books I buy these days because I have so many. Sound familiar? But, I love this book and I'll definitely be buying her next one, Returning to Temecula, when it is published this August.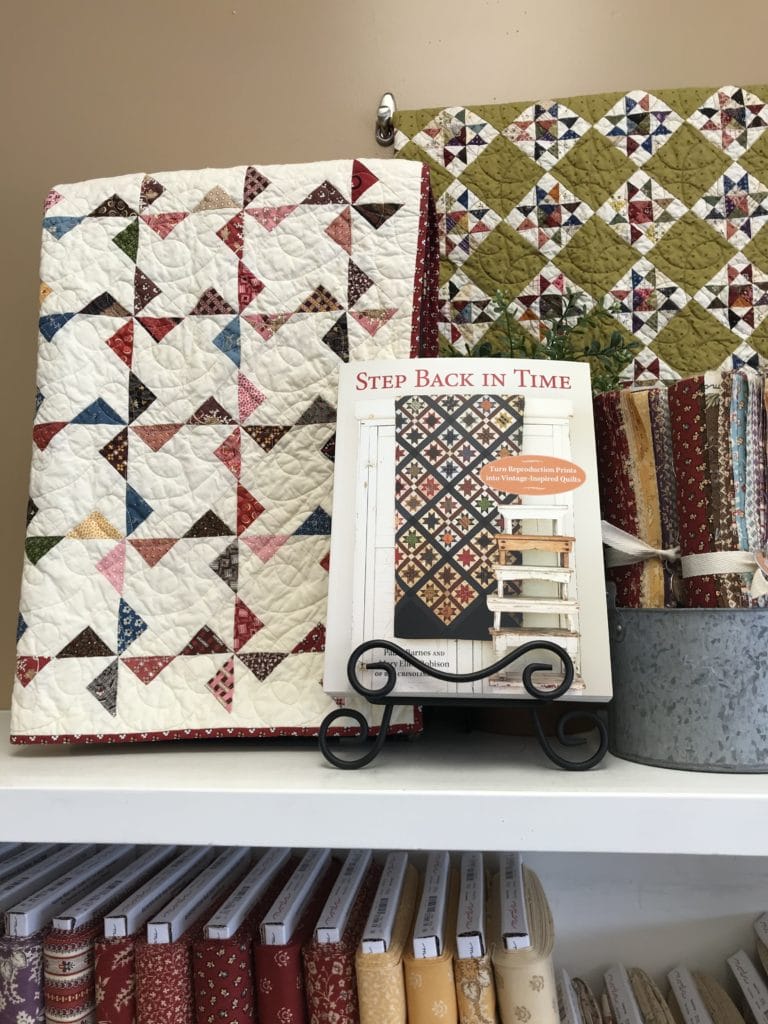 More scrappy quilts for your viewing pleasure plus a sneak peek at some of the fabrics that were available when I visited. I think these might be by Betsy Chutchian for Moda. That's another thing I like about TQC. We reproduction quilt lovers have been a neglected lot in the last view years when it comes to our fabric preferences. But, you can rely on TQC to find and stock those precious reproduction lines (the good ones — you know what I mean) and not clutter up the space with too much of what is called modern fabrics these days. Not dissing contemporary fabrics but I made a decision years ago to allocate my fabric budget to what I truly love and not stray into other fabric temptations. I'm loving those reds above and thinking I need to order some.
Another exciting venture for Sheryl has been the production of her very first fabric line, "Temecula Treasures," by Marcus Fabrics, those producers of some of the very best reproduction fabrics ever printed, in my humble opinion. <ahem> I must confess to borrowing the photo above from TQC's website. The fabrics are still available in the shop – she has to carry these forever, right? – but the bolts are much less full than when she first put them out. Seriously, as a lover of reproduction fabrics that are saturated with color, not "browned out" to look like someone's idea of old and my idea of a dirty quilt, I think these are the apex of reproductions. Don't let these get away without adding some to your stash. You're welcome.
I consider this a "blow your mind" kind of picture. Just imagine the total number of scraps in all the quilts in the photo… The second quilt from the bottom is a Sue Garman pattern called "Oh My Gosh." My thoughts exactly. Still, it might be fun to have a contest to guess the scraps. Nah, that will never happen because someone WOULD have to count them all.
This is another quilt display look I really like. I love the colors in the log cabin (maybe courthouse steps?) quilt in the foreground and the Baptist fan quilting is just perfect. No, that one isn't on the bucket list (yet). I will be doing that quilting on something soon, however. I must also try the adding the loops for hanging the quilts, too.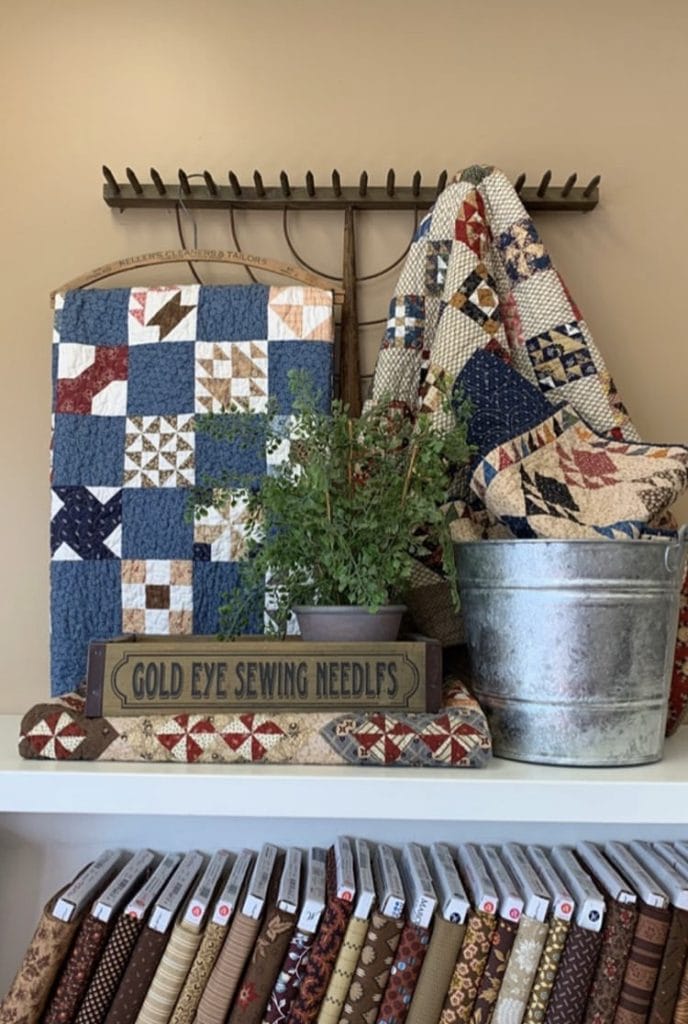 One last vignette, for now. I am particularly fond of the quilt with the red/shirting pinwheels that is folded on the shelf above. Plus, more vintage props and scrappy browns waiting to become part of my own quilts. I hope you enjoyed this virtual tour of TQC. For the record, this isn't a paid ad or anything like that. Sheryl has created her version of scrappy repro Disneyland for this repro quilt lover's heart and I can't help but over-indulge in eye candy and fabric acquisition. Like the new book's title…I'll be Returning to Temecula as soon as I can.