Don't Make a Project Out of It
When he was little, my brother used to be a really slow eater. It wasn't just the chewing part, he probably used the same speed as normal people. But, when he got to the table, he would spend time adjusting his plate, his utensils, his glass, getting everything arranged just so. He would put his food on the plate in an arrangement that was pleasing to him. Given his age, he probably made sure that the individual foods didn't come in contact with each other. It drove my father bonkers. He would let it go for a few moments but eventually he would get frustrated and tell my brother, "Don't make a project out of it!"
Today, I remember that and I think it is a good approach to take. Slow down, savor the moment, appreciate what is before you, and make a project out of it. The little yellow quilt in these pictures became a project because of an early March day that had the hint of the end of winter. The skies have been gray, it seems, since last fall. One day, the sun came out! Then it did it again the next day and the day after that. Suddenly, I just wanted to use the color yellow, in everything. And, I wanted to make something. Nothing specific, but something. So, I found the most lemony yellow I had and cut it into a few pieces and sewed them with some white to make a tiny quilt. Then, I decided I wanted to hold that sunshine in my hands for a while. So, I layered it and started hand quilting as much of it as I could. I made a project out of that little quilt. By doing so, I brought some bright color, some repetitive motions, some relaxing and reflective moments, and a little project into my early spring evenings.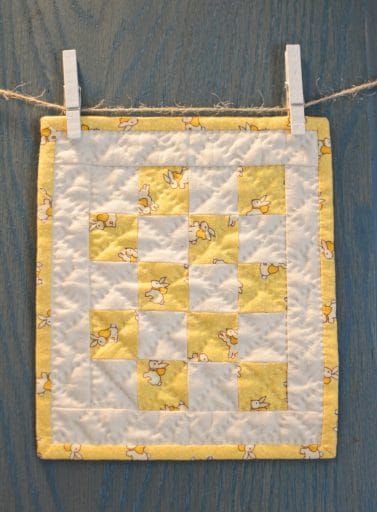 Once I made a project out of, well, the project. I furthered the activity into documenting the project. Or playing with it, however you want to term it. I spent about two hours playing with my little quilt and my DSLR camera practicing taking pictures. After viewing the results, I determined more practice was needed. So, I made a project out of lunch. In case you are wondering, it is an avocado salad and I was on spring break, so I had time to make a project out of things.
Oh, and it was delicious!