Giveaway Celebrating Love!
Happy February, the month of pink and red, hearts and chocolates and lots to love about love. Also, it's my first giveaway since relaunching my blog. Keep reading for information on how to enter.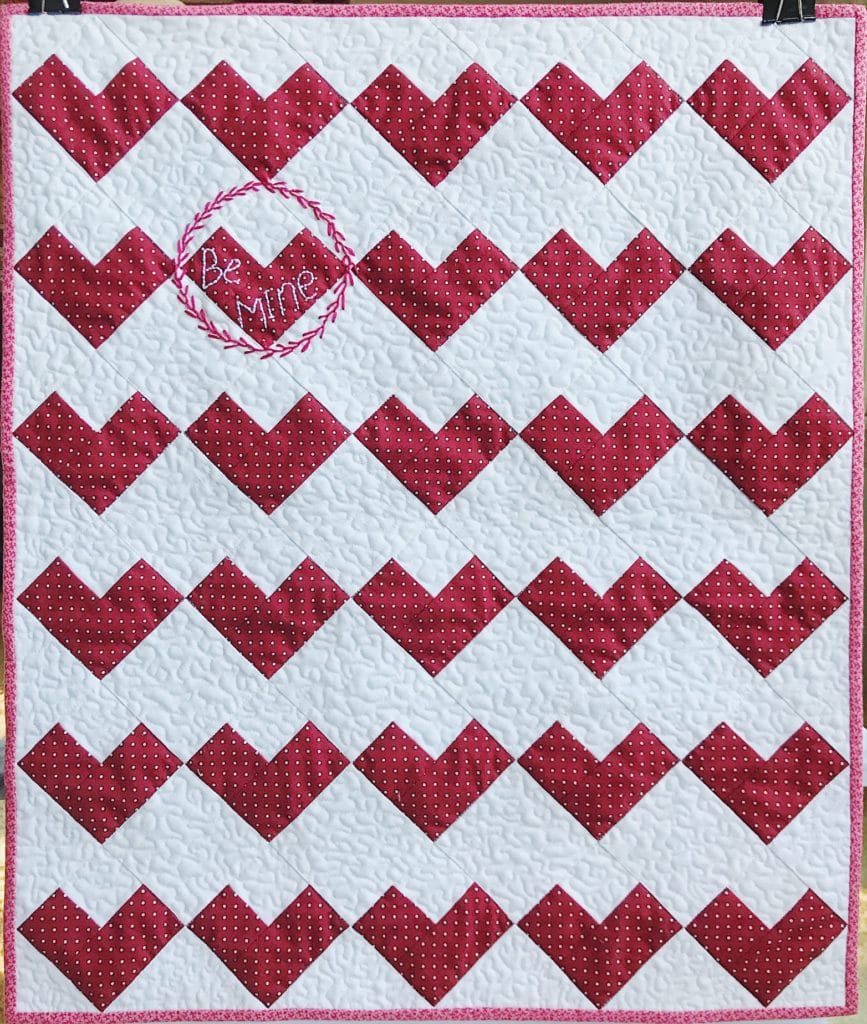 This quilt is from a design Cheri Payne published on her blog in January 2015. Cheri was an incredibly talented, creative and generous quilter and designer with a charming, homey and warm aesthetic. Her quilts just said "Welcome! You can get cozy here" to me. When I saw this quilt with her touch of embroidery, I got excited. When I saw she was then giving the quilt she made away, I got really excited and my fingers were crossed that I'd be the winner. Alas, no such luck. I knew I could make my own version but I was very intimidated about doing the embroidery, especially on a finished quilt.
Facebook gave me the opportunity to quiz Cheri, herself, about when to do the embroidery (pre- or post-quilting?) and even to get a little moral support in the "of course you can do it, don't take it too seriously" variety. So, this year I finally got busy, made the quilt, had a friend machine quilt it for me, chose a binding color I normally never would have picked (it doesn't really match) and got it done on time (before Valentines Day). Then I had to embroider it, yikes! Well, I didn't make my goal of a Valentines Day giveaway launch but did put on my big girl pants this weekend and embroidered my finished quilt.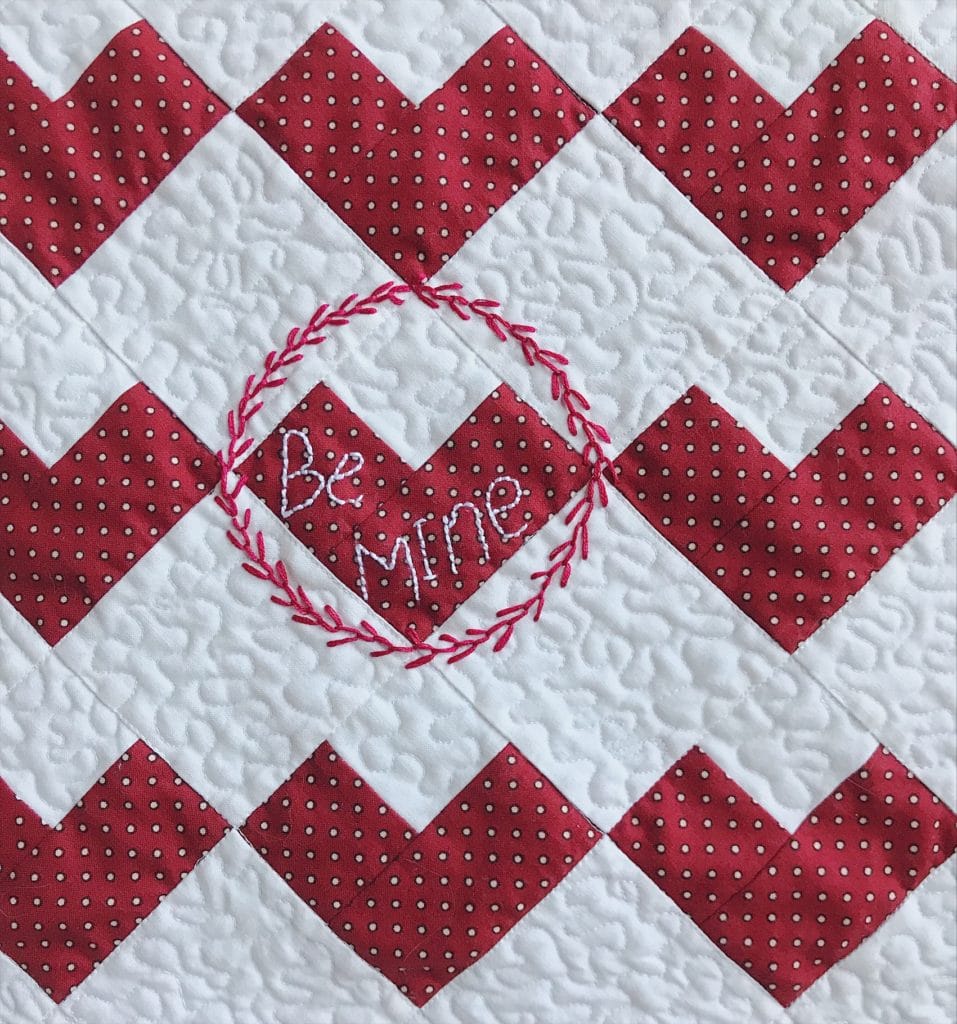 I'm pretty pleased with how it turned out. There are definitely imperfections but that was Cheri's style – she meant for there to be imperfections! – and they make me move it more. What more could I ask for?
Cheri passed last year and the quilt world is lonelier for it. I only met her, very briefly and in passing, in about 2010. It was in Country Loft (also gone now) in Mesa, California. I've loved and collected her designs and you can still find them as, in the spirit of Cheri, many are available on a Facebook group she started and her friends continue – Quilts by Cheri – Friendship Group – as well as her blog, Quilts by Cheri.
How to enter the Cheri Heart Quilt Giveaway
Become a follower of my blog by completing the sign up form on the homepage. If you are already a follower and are interested in the giveaway, leave me a quick comment below and you're in. As a follower, you won't get spammed by me and I won't share your information – not ever! Don't worry, though, if you prefer not to sign up there are a couple more ways to enter. And, if you do sign up, you still get those extra ways to enter. Pop over to my Instagram account @quiltretriever and leave me a comment on the Giveaway post there and/or visit my Reproduction Quilt Lover Facebook page and "Like" that. It's new so no followers yet. I'm trying to expand my blog to other social media so we can share our love quilts on via your favorite method of sharing. I wish I could make a quilt for all of you but even Cheri couldn't do that. So, if you like it and want a chance to win, Good Luck! Giveaway will close at 11:59pm Eastern Standard Time on February 20. Winner will be announced on February 21 and I'll post to wherever the winner lives – even internationally!
A Quick Summary of how to enter the Giveaway (four chances total)
Become a new follower of the Reproduction Quilt Lover blog by filling out the "Subscribe" form on the home page
If you are already a follower, leave me a comment on this post so I know you are interested in the giveaway
Visit my Instagram account @quiltretriever and leave a comment on the giveaway post there
Visit my Facebook page and "Like" it to subscribe to that
Red Velvet Cupcakes
With my new blog format, I'm also sharing some of my favorite recipes because quilters gotta eat, right? Sometimes they will be healthy (I hope) and other times they will be those yummy things that spur our creativity or sooth our souls. What would February be without some Red Velvet cupcakes? This recipe is from Glorious Treats and it is excellent! I never made a cake from anything but a box before and was rather nervous doing it from scratch. Actually, I "knew" it wasn't going to work. But it did! The little tops even stayed perfect instead of collapsing inward which every single box cupcake I've made has done.