How to Make a Quilt Journal That's Perfect for You
Today, I am sharing my favorite style of notebook, method and preferred supplies for quilt journaling. By that, I mean mostly journaling about my projects, quilting in general, and perhaps some of my fabric shopping excursions. But, since quilting is a big part of my life, life tends to also creep into my quilt journal. My favorite type of journal is a spiral bound blank sketch book and I use the purple disappearing Elmer's glue stick, Pigma pens, and a variety of colored pens.
When I first decided to capture my quilting life on paper, I was attracted to the pre-made quilt journals. Those are the ones where someone else did the hard thinking about what information should be collected onto the page, in what order, and how much space to allocate to each part of the project. How easy, right? In reality, nothing exactly matched the way my thoughts flowed when starting a project or how my quilt making reality evolved and I just could not settle on a ready-made journal or project sheet.
What do I mean? Well, some templates left a big space for a photo … of a finished quilt project. It was there at the top of the dedicated quilt journal page. If you've read any of my blog other than this post, you would know that finishing a quilt isn't something that happens very fast for me; or, very often. So, that big box would just sit there, empty. I couldn't get into a template that, by design, left the first half blank until the very end of the process. Then, there were the guilt inducing "Date Started" and "Date Finished" sections. That's assuming a lot! On the flip side, there were quilt journal designers who seemed to assume quilt makers only used 3-4 fabrics in a quilt. That's how much room a generous template allocated for adding samples of fabrics to your journal. I'm a scrap quilter and if I want to use six pages in my blank journal to save a bit of every fabric I use, I can. I'm also a linear thinker and like to conceptualize my projects with a start to finish approach. So, the pre-made quilt journal templates were not for me.
Journal Design Inspiration
My generic journal design inspiration came from Susan Branch's "Heart of the Home" style of cookbooks which, to me, are actually illustrated journals with recipes. (If you aren't familiar with Susan's cookbooks, you can see more at her website) I chose this style years ago, probably last century (you know, the 90s). I loved Susan's books with their cute little watercolor pictures, a font that looked like perfect handwriting, recipes, quotes and thoughts from the author. I can't draw so I decided to use fabrics as my illustrations. That's how my journal evolved into a quilt journal.
Note, this post may contain affiliate links. Ordering through these links does not cost you anything extra but I could earn a small commission. For more information, see my disclosure policy.
I use a 5.5″ x 8.5″ hard cover, spiral bound sketchbook because the spiral binding allows for "give" and literally enables my notebook to expand as I add more than just words to it. For color, I use rainbow pens or black pigma pens in a variety of sizes, depending on whether I'm feeling "basic" or "colorful." My first journal attempt was the Susan Branch style of watercolor but, as I mentioned, I can't draw so the illustration was rather ugly and definitely lopsided. It wasn't "me."
After the illustration failure, I decided I preferred my taste in fabric over my lack of ability to draw and the fabric added color and pattern very nicely. My second journal entry was the quilt I was starting at the time, a "Trip Around the World," that I taught regularly at my local quilt shop. My favorite part of the project was choosing the 24 fabrics needed to make the quilt. Once I had them all selected I liked to line them up in order and pet them for a bit before getting started on cutting and sewing. To preserve that image, I cut little snips off my fabrics and glued them into the book in the same order. I date each journal entry I make so the "date started" is implied but not specified.
At the time I started this kind of quilt journaling, I was a stay-at-home mom of three with a husband who traveled often. I didn't get a lot of adult interaction. In addition to information about my quilt plan, I included my thoughts about life, budgeting, getting dinner on the table, etc. My first journals are personal documents that may never be viewed up close by another human being. Today, those entries give me a glimpse of how I've grown and how the tough times do, eventually, pass.
Life Changes and Journals Evolve
My kids grew up, I went to work to help put them through college and gave up a whole lot of my quilting time. Now, I get lots of adult interaction, spending most of my week in an office. To counter-balance the vast amount of human interaction during the week, I crave the solitary escape of playing with fabric and planning projects. My journaling now is more about planning quilts and the thoughts that go into creating them. It is an indulgence to jot down ideas, sketch blocks, list cutting dimensions and even glue in pictures of the finished quilt. Since I date each entry I even have some "date finished" accomplishments. The narrative parts of my entries are less about pondering life and more directly about quilting. This process is excellent for giving me a sense of control — essential for a control freak, I would say — even if it's just bragging about making a short row of nearly perfect stitches. The gaps between entries, sometimes up to a year, illustrate that perhaps I'm not allowing myself enough time for what I love to do.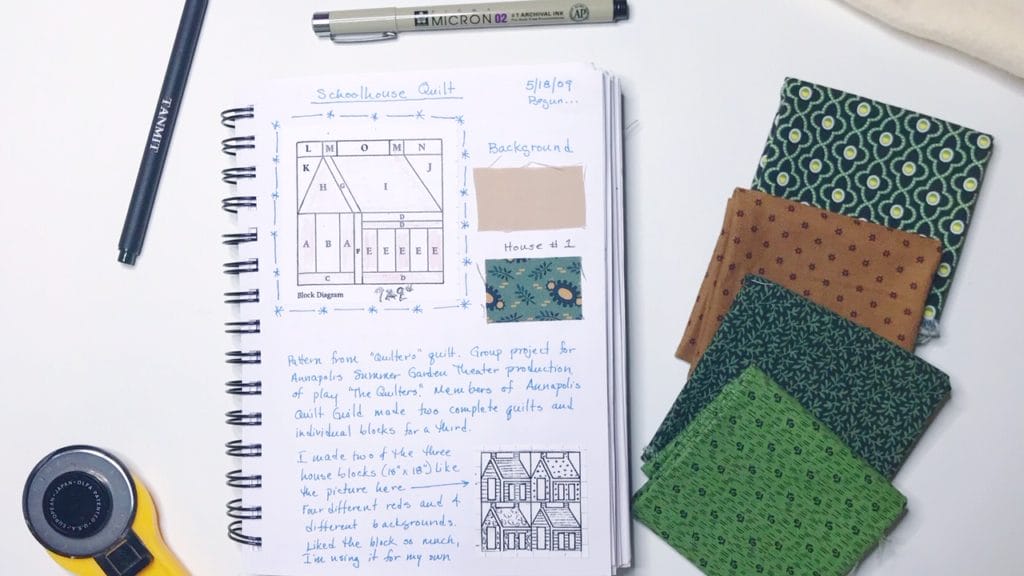 The Summary
My point, if you've been waiting for me to get to one, is that quilting is a very personal hobby and is about much more than buying fabric and (perhaps) a pattern and stitching it into a three-layer sandwich. Creativity comes from within us and, by definition, is a manifestation of ourselves. Documenting your journey is a worthwhile activity and may even teach you something about yourself. My experience has taught me that process is personal and no one can really create a perfect template for something so individualized. If you start putting your ideas, thoughts, methods, wins, losses, down on paper you'll eventually create something that matters, even if it only matters to you.
The Details
The supplies for this are minimal. I don't use a larger sketch book and I always get a hardcover version because I will sometimes tuck it into my bag to take with me. The number of pages range from 80-100 per book and I actually prefer the smaller number because it finishes a little faster and has a bit more "give" room. But the number of pages doesn't really matter much. I like the Elmer's glue sticks that have a purple tint so I can see where I put the glue on a white page. The purple disappears when dry and, as you can see, some of my journals are 20+ years old, so it lasts well. Buying in a multipack is most economical and if you put the extras in the freezer they last longer. I love pigma pens because they don't bleed through the page and, therefore, I can use both sides of the pages. I use different thickness of lines for writing, drawing, making boxes, etc., for the journal and a variety of other purposes in quilting so I like to buy the set with several sizes (6 pens range from 005 to 08). The dual brush marker pens (set of 24) are handy because you need the fine line for writing and drawing blocks but the brush end is much better for neatly coloring things in. When I color with the fine point it looks a lot like a scribble. They are a pleasure to write with and I use them for other notebooks and writing purposes, too. I'm into color coding.
If you are interested in purchasing the same materials I use for quilt journaling, you can find them via the links below. These are affiliate links so if you buy by linking through my website then I earn a small commission. It doesn't cost you any extra and I only recommend them because I use them and like them very much. For more information, see my disclosure policy.
The products I like to use