What is a Scrap Quilt? How to Show Off your Unique Style!
Scrap quilts are one of the most fun and creative ways to use your fabric stash! A scrap quilt is a style of patchwork quilt, usually pieced, made from many pieces of fabric in varying sizes and patterns. With endless possibilities, it is the perfect way to show off your unique style.
There is a lot of nostalgia associated with quilting and the romantic notion that quilts were made because families couldn't afford to buy fabrics expressly for the purpose of making a quilt. Many think of scrap quilts as the result of a quilter fondly using leftover fabrics from sewing clothing for the family or a frugal farm woman in the 1930s taking apart a feedsack to use for a quilt she is making.
These quilts are often referred to as "make-do" textiles, made just from the fabric that was on-hand. Sure, some quilts were made that way but quilters also intentionally sought, traded and bought a variety of fabrics for their scrap quilts.
Another popular notion is that scrap quilts are not "planned." That, somehow, the quilter is just grabbing pieces willy-nilly and putting fabrics together without considering color, pattern, shades, etc.
In reality, scrap quilts were carefully planned. The scrappy album quilt made in 1863 by Jane Stickle has hundreds of different fabrics. Jane Stickle was an invalid woman of some means with the necessary skill and time on her hands to design and make such an elaborate quilt. How she managed to collect the great number of fabrics is unknown.
.
What fabrics make it a scrap quilt?
If you talk to 10 people, you are likely to get 10 answers to the question, "What is a scrap quilt." One that makes me chuckle is the National Quilters Association's (NQA – now disbanded) "standard" that a quilt must contain at least 75 different fabrics for it to be categorized as a scrap quilt. That really isn't necessary but you do want to use as many fabrics as you can because a wide variety adds interest to your quilt.
If you have a generous stash of fabrics that are leftovers of fabrics bought for other projects or just because you love it, you have a great starting point for a scrap quilt. The goal with this type of quilt is variety. You want to be sure to include lights, brights, darks, neutrals, big prints, muted prints, etc. It's not just the variety of fabrics that make a scrap quilt sparkle but also careful placement of design and colors. You should even pick some fabrics you don't like or are subdued. Not every fabric can be a star!
What are the different types of scrap quilts?
Entire books have been written about the art of scrap quilting and there are many variations of scrap quilt styles. However, there are two main categories of scrap quilts: the "anything goes" approach or a more controlled and coordinated quilt designed around a theme, block, color, etc. Below are four popular variations along with some tips to help you to create a quilt filled with visual interest. Like any form of quilting, successful scrap quilts take practice.
Limited palette:
This half square triangle quilt is made from just three colors, but there is plenty of variety due to the number of different prints used to make it. There are probably 30 different pink and 30 different brown fabrics in this simple triangle quilt.
Tip: Count the number of pieces you need for the finished quilt and determine the maximum number of times you want to repeat any single fabric. Divide that number into the total pieces to determine how many different fabrics you should use in the quilt.
Controlled scrappy: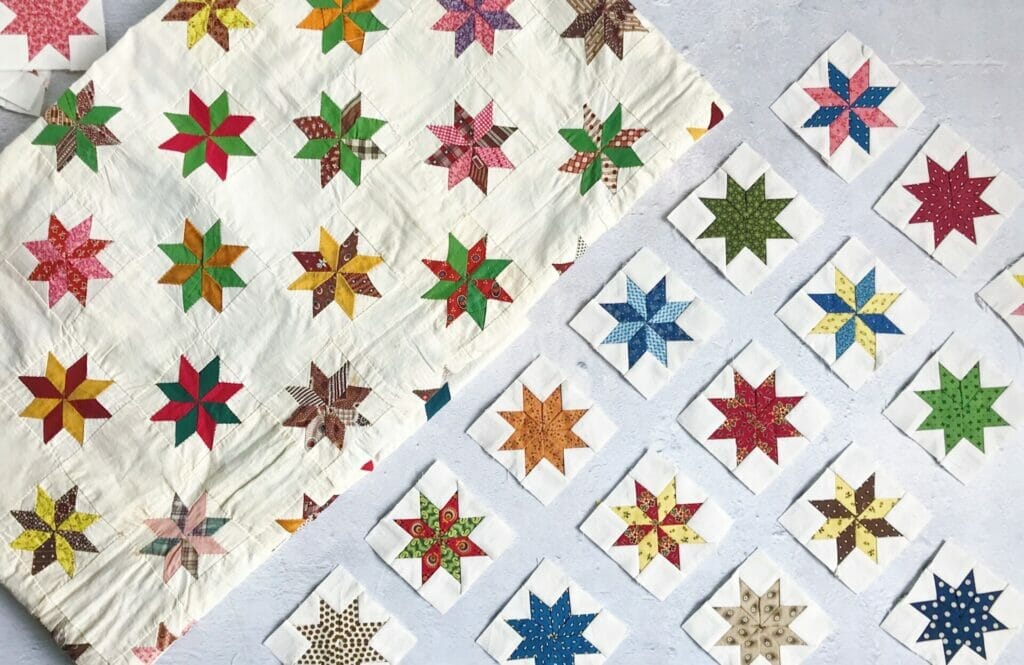 Putting many different fabrics together without regard for scale of print or how the colors look together can quickly make the colors appear rather muddy. One way to use a lot of variety but not let them all run together is to use separators such as alternate plain blocks or sashing.
The antique quilt top on the left in the picture above has muslin alternate squares which gives a place for your eye to rest between looking at the various combinations of prints.
String quilt:
String quilts are made from strips of fabric sewn to a foundation to, essentially, make a new piece of fabric. They can be random or controlled. The string quilt shown here is very controlled as the piece created from fabric strings has been cut into diamond shapes which were then sewn into 8-pointed stars. All the strips are the same size and the quilter planned an arrangement that alternates light and dark fabric. Additionally, the quilter used a solid blue background to give the viewers' eyes a resting place after looking at the many different fabrics used for the strips.
Improvisational piecing:
I call this style improvisational because the pieces appear to have been chosen randomly without much attention paid to arranging them by scale, color, value, etc. The actual block appears to be a square made from a four patch, turned on point with triangles on each side of the square. Essentially, it's a square in a square variation. But those outside triangles are rather wild.
Some quilters like to leave fabric selection completely to chance when making a scrap quilt and that could be how those outside triangles were designed. The quilter will select fabrics completely randomly. Some will even put all the scraps in a paper bag and blindly pull each fabric out to force themselves to avoid intentionally choosing any particular piece.
The quilter who made this example didn't pay much attention to ensure the pieces lay flat when making the blocks and the quilt itself doesn't lay very flat. That's something else to be mindful of when making a scrap quilt, you might have to re-cut and re-sew if you are letting the pre-existing shapes of the scraps dictate your ultimate design and construction rather than carefully cutting each piece to the proper size and shape.
One Last Scrappy Quirk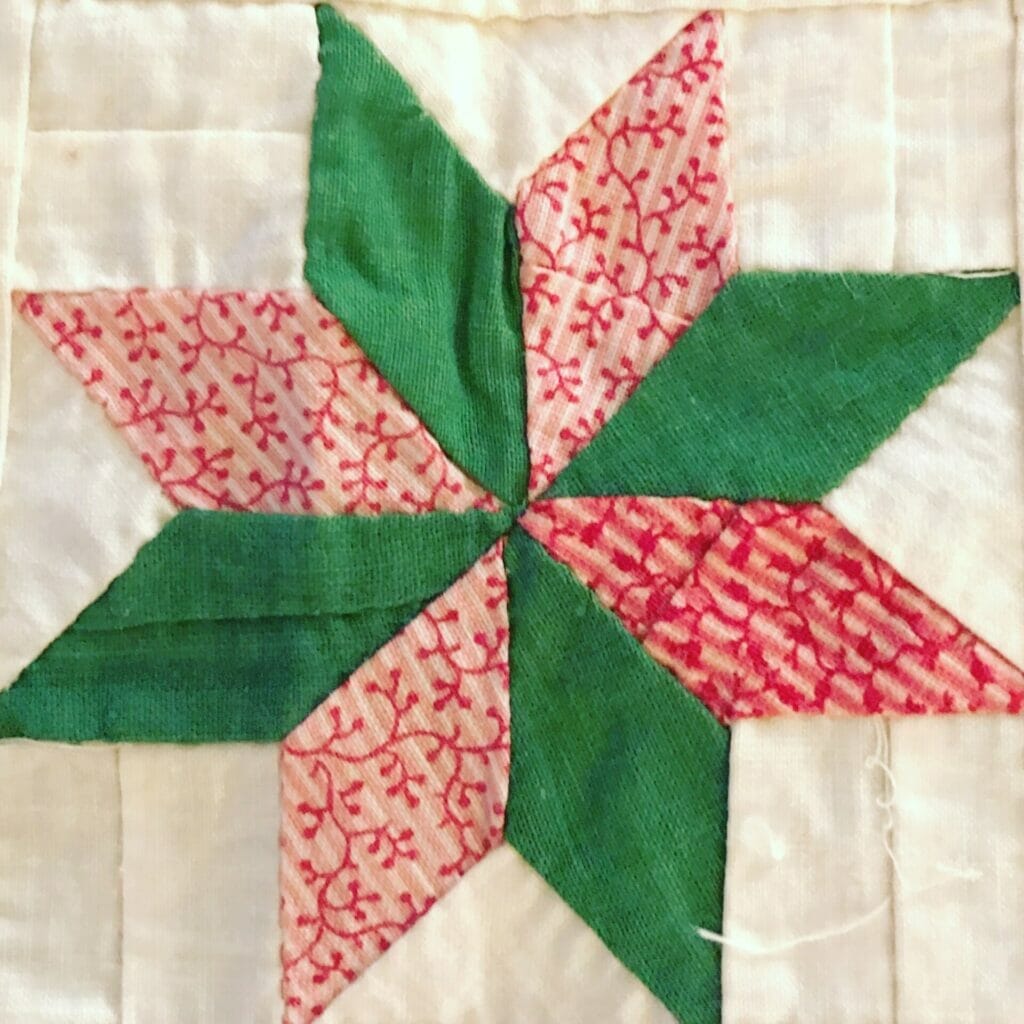 One of my favorite quirks in scrap quilts is where the quilter pieces scraps together just to get a shape for a piece in a block. The example in the picture above is a Lemoyne Star block where the maker of the antique quilt pieced her pieces in seven different places. Examine the star block closely to see background squares and diamonds where the maker had to stitch together two pieces to get the shape she needed. Or, the quilter was using scraps from garment construction and those seams were already there.
Was this frugality? Was she using up every little scrap she had? Perhaps. But, as a quilter yourself, what would you do if you needed a bit more of a specific fabric but just didn't have the right size piece to cut a diaond, plus its seam allowance out of it? Would you be tempted to make your own piece? The quilters from the past give you their permission.
How do you quilt a scrappy quilt?
There is a lot of variety in scrap quilts which means there are many quilting options for scrappy quilts. Whether you hand or machine quilt your scrappy project, you want to choose a simple design because it will be mostly lost among busy fabrics. Instead, your quilting should add an interesting texture that will catch the light and vary the ways your different fabrics appear because of where the highlights and shadows fall.
If you are hand quilting, you should consider a solid backing fabric that will show off your quilting stitches. Do not worry about how perfect they appear. Just strive for eveness if you can and know that all hand quilting should be shown off.
Here are some more quilting suggestions:
A simple allover design, like stippling, is appropriate for a busy top. Above is part of an antique quilt shown previously. The maker made a good choice with the Baptist Fan design. It's relatively easy to see the marked lines and it's a natural arc for your arm to follow. It adds a wonderful texture to the quilt.
A machine version of Baptist Fan also works well for the same reasons listed in the first bullet point.
Straight lines are easy to quilt by hand and if you double or triple them up they make a strong impact on a hand quilted scrap quilt. They are also effective for machine quilting but you might not need to double them.
Choose more than quilting "in the ditch" if you want your quilt to drape well and have that vintage look.
Are you inspired to make a scrap quilt?
This post may contain affiliate links which won't change your price but will share a commission.
Scrap quilt ideas are everywhere. You can use actual scrap quilts for inspiration, buy a scrap quilt pattern, or consider ways to turn a pattern for a non-scrap quilt into a scrappy one using some tips from this article.
A source of abundant scrap quilt ideas and patterns can be found in the following books (affiliate links):
"The Big Book of Favorite Scrap Quilts: 44 Colorful and Cozy Patterns" which you can order from Amazon. I'm sure you can find quilt patterns in that book from several of your favorite designers.
"Quilt Club: Scrappy Patterns Perfect for Block Swaps with Friends" is a great book if you have a community of other scrap quilt lovers and want to put together a swap group to share and expand your fabric collection.
"The Big Book of Scrappy Quilts: Crib Size to King Size" is a good resource if you are looking for ideas for quilts in a variety of sizes.