Ten Tips for Making a Scrappy Quilt
In this age of mass-production, creating something by hand can be incredibly rewarding. Quilting is one craft that not only allows you to create beautiful, lasting pieces of art, but it's also a great way to make something special from spare fabric, or "scraps." Whether you're a beginner or a master quilter, the scrappy quilt technique can be a great way to use up fabric leftovers, create a unique patchwork quilt, and be more sustainable in your fabric use in the process. With that said, let's explore the world of scrappy quilts and discuss 10 tips to help you create a beautiful and unique piece of art.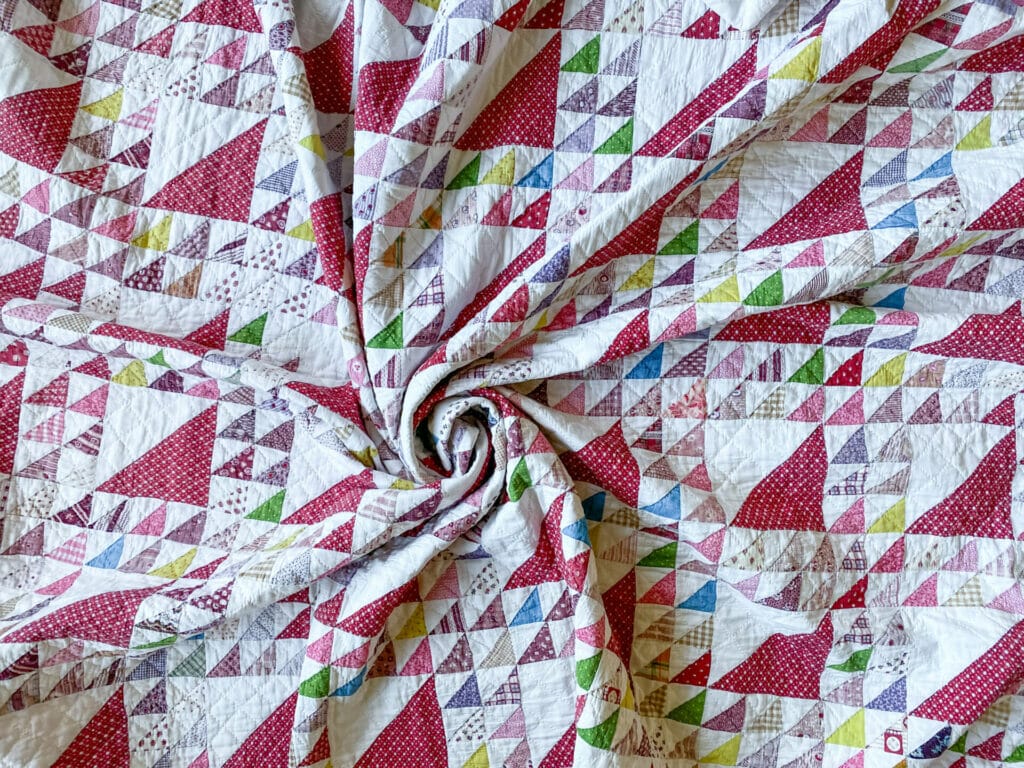 1. Decide what you consider to be a scrap piece of fabric.
There are no rules about what a scrap piece of fabric might be. Some quilters think that a scrap fabric must come from previous projects, that you aren't buying anything new to make a scrap quilt. Other quilters, like me, actually buy fabrics without a specific purpose in mind, just that the fabric may one day join others in a quilt.
It is helpful, however, to make a plan for storing scraps, especially when they come from previous projects and are not in any uniform shape or size. You might also want to decide what the largest and smallest pieces of fabrics you want to keep for future scrap quilt projects. I have a favorite tiny quilt I like to make as a way to use up the tiniest bits of my favorite fabrics so I cut even small leftovers into 7/8″ x 1-1/4″ rectangles and put them in a tiny plastic box.
I also find that saving strips of common sizes makes it much easier to cut lots of different fabrics for use in a scrap quilt. For example, I commonly use squares in 1-1/4″, 1-1/2″ and 2″ so I'll cut strips of those sizes from leftover pieces of fabric. If you make larger quilts, you might want your strips to be larger than those I save.
If I have some large pieces of leftover fabric I also like to cut those into 5″ squares. They are neater to store and it's easy to pull out a square and cut, for example, strips or smaller squares for a block. Working with different fabrics within one block makes your quilt even scrappier.
2. Select a range of light, medium and dark fabrics.
Scrap quilts rely on contrast, value, and color to get a clear design across. Because you're using a variety of fabrics, you need contrast to make sure the pattern's design is being showcased. You must select a range of light, medium, and dark fabrics to get that contrast.
One trick to determine if you have enough variety in your scraps is to lay out the block design and take a black and white picture using your phone. If the prints all blur together you need to swap out some fabrics to gain greater contrast.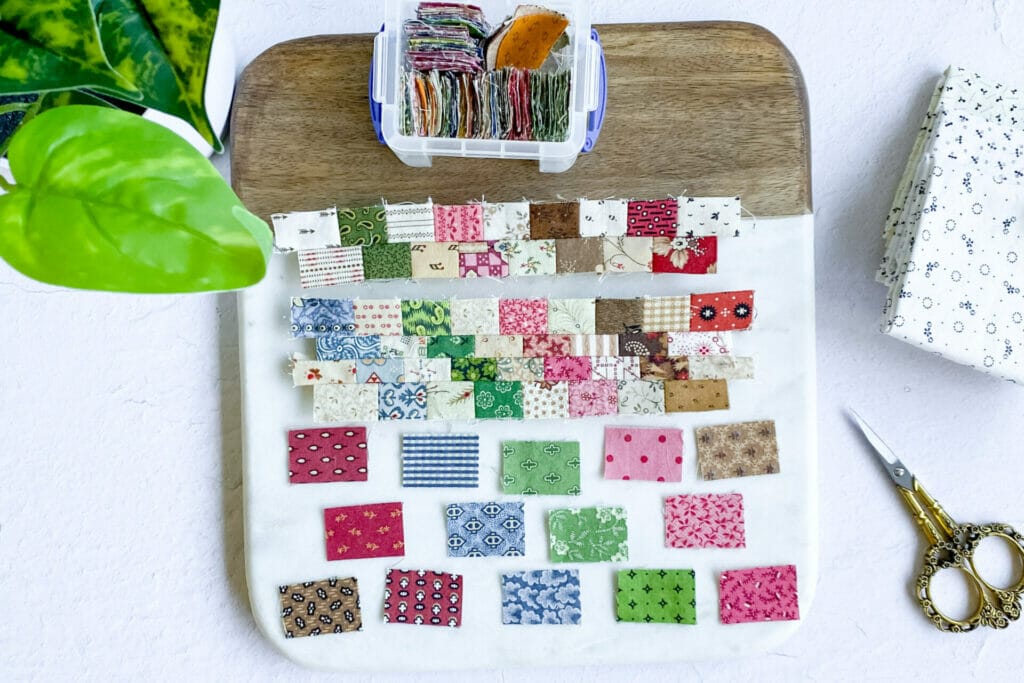 3. Choose a limited color palette or a single fabric for the background if you desire a more cohesive version of a scrap quilt.
If you desire a calmer version of scrappy, pick a specific color palette, and pull scraps of fabrics that fall into those colors. Or, use a single background print rather than an assortment. Or, you can still make a scrappy background but be sure to keep all the prints the same value. "Low volume" is the term often used when a background is made of similar value, often light colored fabrics. This will bring a more order to your quilt and has a calmer and/or more orderly feel.
4. Simple patterns lend themselves to the scrappy look.
One-patch quilt designs are a wonderful choice for scrap quilts. Triangles, hexagons, thimble shapes and squares were all popular choices for scrap quilts in the 19th century and remain so today. Other patterns, like the Log Cabin, seemed to have evolved just for using up many different fabrics. The 9-patch design is also popular with quilters who like a lot of color, pattern and prints in their quilts.
5. Decide if you will choose fabrics completely randomly or if you want to do more planning for your quilt.
You do not have to combine your fabrics randomly to make a scrap quilt but it's a fun experiment if you want to give it a try. Put all your pieces into a paper bag, reach in without looking, and pull our a fabric then use it. Do you think you can make a whole quilt this way? Or, do you think you will give in to the temptation to not leave everything to chance?
If you want to keep your quilt more orderly, you have many, many options. One of my very favorites is to use either a solid fabric or a muted print that "reads" solid. For this style, you make your quilt blocks from scraps and pair the block with the aforementioned plain fabric. A good example of this is a scrappy nine-patch paired with solid squares.
Another benefit from using a more solid looking fabric for alternate squares is you can include some fancy quilting where it won't just blend in with busy scraps.
6. Make "pieced pieces" to use up more of your little scraps.
You can use up more of your fabric and be even more economical by taking small pieces and sewing them together to make a larger piece to use in the quilt. For example, you need a 3-inch square and want to use blue but all you pieces are too small. Put them together and cut the size square you need.
This is a great way to make use of scraps that would otherwise have gone unused and can add texture and dimension to your quilt.
7. Choose an all over design if you are machine quilting your scrap quilt.
If you know this blog, you know that most of my quilts have a vintage look. The antiques in my collection are nearly all hand quilted and I like the highly textured look in those quilts. There is a way to machine quilt scrap quilts to emulate the texture found in the antiques and that is by choosing all over patterns that serve to "blend" the pieced fabrics together.
My favorite machine quilting styles for the crinkly hand quilted look are a small all over stippling, the Baptist Fan design, and lines that emulate hand quilting. Don't just quilt in the ditch – that space where the fabrics are joined and the quilting sinks in between the fabric pieces and nearly disappears. Your lines can be used to outline pieces or intersect squares and triangles.
8. Stick to simple lines, squares or diamonds if you are hand quilting the scrap quilt.
Hand quilting takes a lot of time to do and gets lost on busy prints. It isn't really worthwhile to put in a lot of effort to hand quilt something if you aren't going to be able to see the finished product. Straight lines are quicker and create that beautiful hand quilted texture. If you like a heavier quilted look, double or even triple your lines.
Also, it's common to pick printed fabrics for the backs of quilts. Again, this makes the quilting patterns disappear. Consider using a solid fabric, muslin or colored fabric, that will show off all your hard work to do that quilting all by hand.
If you want something fancier than lines, consider putting cables in the borders. It is a nice design that does show up well even on prints. The Baptist Fan design was mentioned in the machine quilting section and it's a good hand quilting design for scrap quilts, too. The curved lines seem to work well when stitching over the bulky parts like seams.
9. Purchase fat quarters or trade with friends to get smaller cuts of fabric to build your stash for scrap quilts.
Making a scrap quilt is a great way to use up fabric remnants from other projects. But, it's helpful to build up a fabric stash ahead of time so you have a greater range of fabrics to choose from. One way to do this is to purchase fat quarters and fat eighths. A fat quarter is 18″x 21″ and a fat eighth is 9″x 21″.
It is also fun to participate in fabric swaps with friends. This usually take place within small sewing groups, amoung guilds and even in the online community. This is when you will cut up a yard of fabric into pieces of a certain size or fat eights and diving them to share with everyone in the swap group.
10. Don't stop at the quilt top, make your binding scrappy, too!
Don't stop at the quilt top, make your binding scrappy, too! Instead of using a uniform fabric for the binding, use a variety of fabrics. This will create a scrappy binding and add texture, color, and interest to the edge of your quilt, helping it stand out and be unique.
In conclusion, scrappy quilts are a great way to use up fabric scraps or your stash and create a beautiful quilt. With the help of creative fabric, pattern and quilting design, you can make a scrap quilt that is sure to become a familty heirloom.
If you want to read more about scrap quilts, click here.