Hand Quilting My Little Quilts
Quilting…hand or machine?  As quilters, we make decisions, have our preferences, and our biases.  These are individuals choices and when I speak about them I am strictly speaking about my own personal decisions, preferences and biases.  There is no judgment about those of others.  This is my disclaimer because I am going to talk about one of my favorite quilt things, hand quilting, and why I don't quilt my little quilts by machine.
Before I went back to working outside the home full-time I enjoyed the luxury of having several hours a day to spend sewing and quilting.  At that time I was teaching at a local shop and machine stitching class samples in addition to my personal sewing.  Frankly, the class samples took up more of my personal time than I liked.  When I took my full-time job and experienced a substantial reduction in that personal time, I evaluated what was important to me with regard to quilting.  I stopped teaching and got rid of all my fabric that wasn't reproduction.  (Note: don't worry, I've since plugged those holes with plenty of new repro fabrics.)  I switched from making large quilts to mostly small ones that offered the chance to play with fabrics and patterns while making a quilt that I could hang on my office wall to enjoy during my time out of the house.
I need to get a ladder so I can put quilts above my white board and add another row above those on the right
Personally, I am not a fan of machine quilting on little quilts.  I think that is because it is so obvious.  Remember, this is personal taste – not right, not wrong – just my opinion.  I love the designs created by quilting but I love the subtlety of hand stitching.  I am guessing that others share my opinion but choose to machine quilt their projects in order to finish them faster…or at all.  I certainly can appreciate that.  In another moment of introspection, I decided that, going forward, I would stick to a hand-quilt-only policy for my own little quilts.  I started with some very small projects (see the tiny one pictured below) that I could complete in an evening and some very slightly bigger ones that took a couple of days.  Then I started hand quilting a larger project: Cheddar Cheese and Crackers – Humble Quilts project.  That was in 2010 and it still isn't finished.
Pinned to my bulletin board on my desk
Reflecting further, I decided to stick with my hand-quilt-only policy but to employ the tactic many, many others use:  Hire the quilter.  That's when I turned to Bellwether Dry Goods.  I've talked before about Bellwether because I love their service which ranges from simply having your quilt top marked by Dick Fries for you to do  your own hand quilting to purchasing a completed quilt.  While hiring someone to hand quilt for me isn't cheap it is definitely a good value.  I get to play with fabrics while sewing my tops and wind up with little quilts I absolutely love which I use in my house and in my office.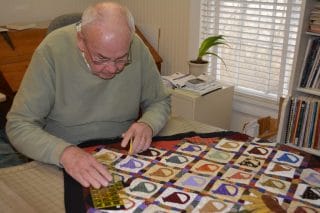 Dick Fries marking a quilt top before it goes to the quilter
I first fell in love with Bellwether quilts when I visited an event that used to take place near Dulles, Virginia, at the Sotterly Plantation.  I can't tell you how much I loved walking over the hill and seeing dozens of hand quilted quilts gently blowing in the breeze and folded on shelves where you got glimpses of patterns and color.  The Sotterly event featured many antique quilt dealers and the Bellwether quilts fit right in because of their vintage look and feel.  But, they smelled good!  Alas, the Sotterly show is no more so Dick and Jane Fries started holding a three-day open house event on their own property in southern Anne Arundel County, Maryland, during the first weekend in December.  This year the show is December 2-4 from 10am-4pm each day.
Details about the Bellwether Open House
In addition to seeing and being inspired by lots of great quilts, you can enjoy some delicious cookies and cider as well as the Fries' antique house.  I highly recommend it!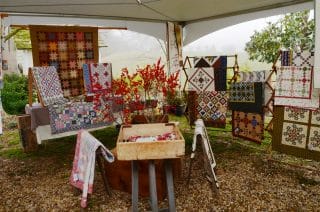 There is a large tent so the open house takes place rain or shine