Little Bowtie Block Tutorial
I'm late off the mark to write a post about plans for 2019 but I did make some. Then changed them. Then changed them again. Then I was so confused about my plans for the new year that I tossed all the plans and went back to the initial plan. I want to make at least one little quilt each month in 2019 and share that here. If any of your plans include making little quilts then I hope you'll share your quilts with me here…or on Instagram because I'm there, too. Look me up, I'm @quiltretriever on IG. You can link to my Instagram page via the social media links at the top of this page or via the thumbnail images at the very bottom.
My new year's word is "simplify" and, to me, that is epitomized by a two color quilt. I chose blue and white for this month's little quilt but I suspect you'll be seeing more two color quilts this year and even some made from solid fabrics instead of prints. The inspiration quilt was an antique doll quilt I found in the book The American Quilt: A History of Cloth and Comfort 1750-1950 by Roderick Kiracofe and Mary Elizabeth Johnson, page 112.
Mini Bowtie Block Instructions
Below are the instructions for making a mini bowtie block. You'll need 8 to make a little quilt like mine.
Step 1:
Cut two blue squares and two white squares 1.5″ x 1.5″; cut two blue squares 1″ x 1″.
Step 2:
Draw a diagonal line, corner to corner, on each of the 1″ blue square. Align the small squares with a corner of each of the white squares. Stitch along the diagonal line. Press open.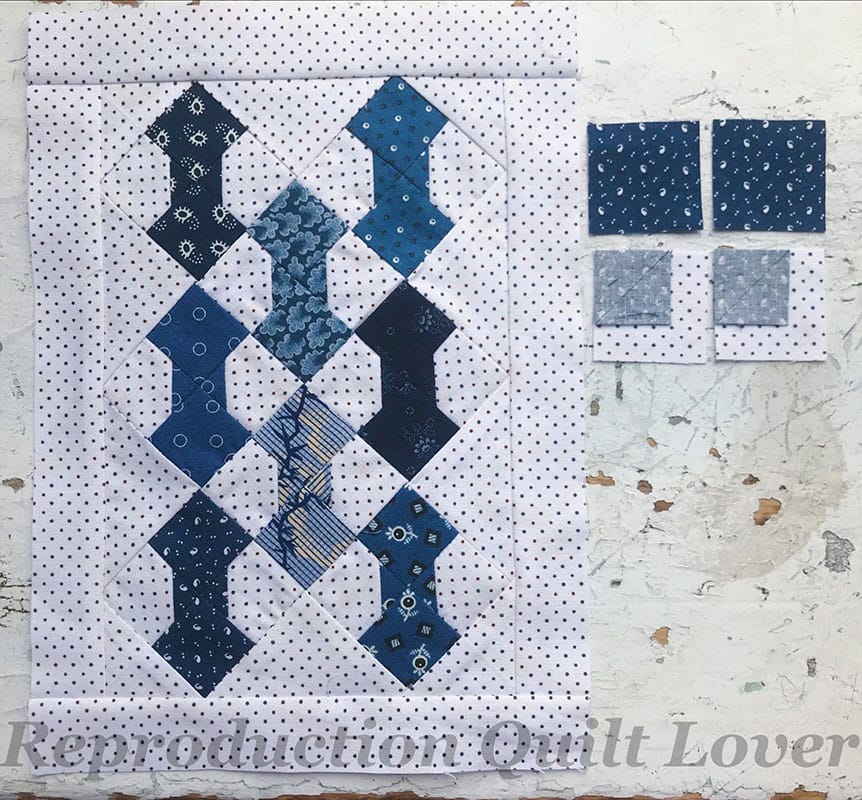 Step 3:
Cut the excess fabric from underneath the blue triangle.
Step 4:
Line up the four squares as shown in the photo and stitch the four patch together.
Step 5:
The bowtie block measures 2.5″ unfinished and will finish into a 2″ block. Make a total of 8 blocks for the quilt pictured.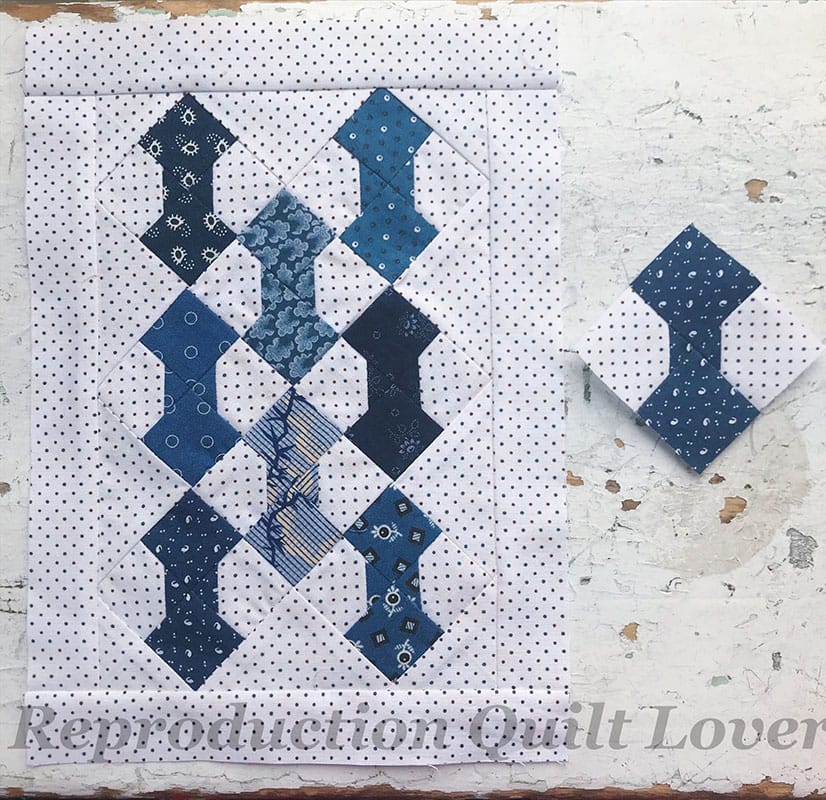 Finishing the quilt:
Step 6:
Cut two 4″ white squares, then cut in half diagonally, twice (like an "X"), to make 4 quarter square triangles (8 total). These are for the top and sides and you'll only need 6 of them. These triangles are bigger than you'll need so trim to fit after stitching.
Step 7:
Cut two 3″ white square then cut once diagonally to make 4 half square triangles. These are for the corners of the quilt. Trim to fit if necessary.
Step 8:
Borders are cut 1.25″ wide. Measure your top after assembling and cut border lengths to size needed.
Have fun! It's a super easy little quilt and can be used to add a bit of quilty love in nooks and crannies.
You're finished! Enjoy your miniature bowtie quilt.